---
Something about this time of year makes us nostalgic for the days when fence-hopping at someone else's pool was acceptable—and the highlight of the season. So, we say, put the bitter-cold memories of winter behind you and look to the sun—and the water. We've dipped a toe in some of the country's most spectacular pools and come up with a list that's sure to make you long for the warmer days ahead—along with some summer-swimwear inspiration compliments of Tommy Hilfiger for pool-hopping in style. Just be sure to make a reservation before you take the plunge.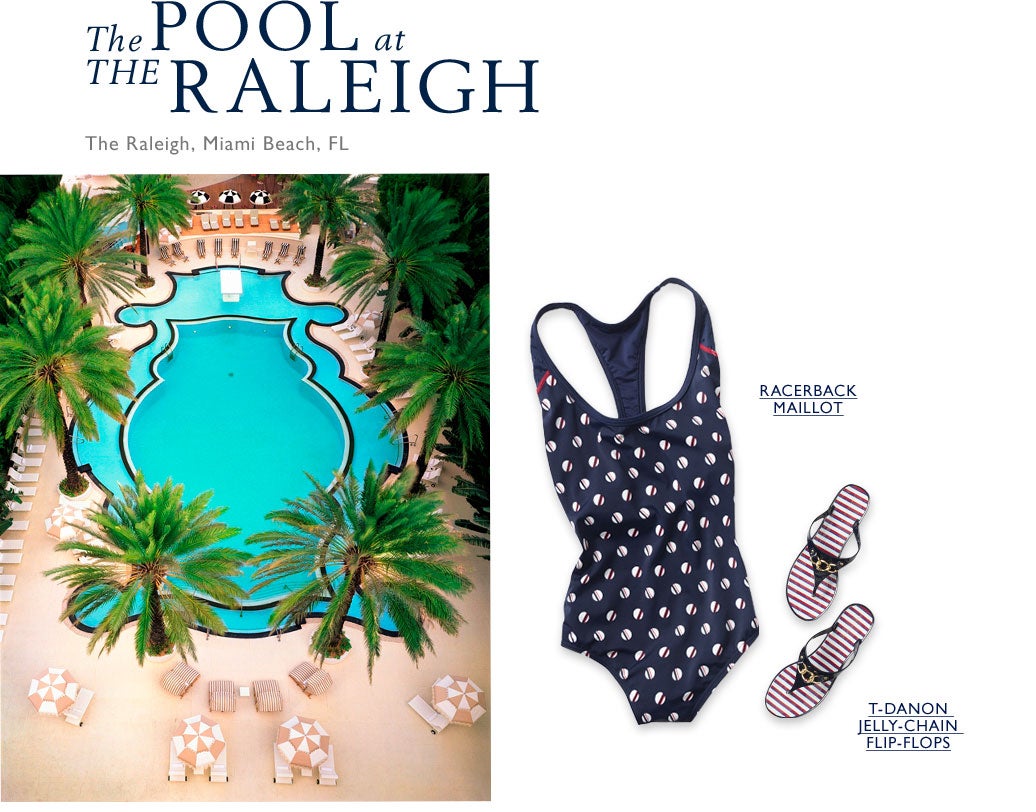 When you step into the lush, palm-frond-festooned back courtyard at The Raleigh, your first instinct will be to kick off your Tommy T-Danon jelly-chain flip-flops, grab a frosty drink from the bar, and walk straight into the dazzling, Art Deco-style pool. And no one would blame you—not many people can resist taking a dip in this legendary soaker designed in 1940 by renowned Miami architect L. Murray Dixon. Making a dramatic poolside entrance in your Tommy racerback maillot will be a cinch, too, at this iconic enclave in the heart of bustling Miami Beach: the cascading waterfall feels like a set-piece out of a 1950s "aquamusical."
---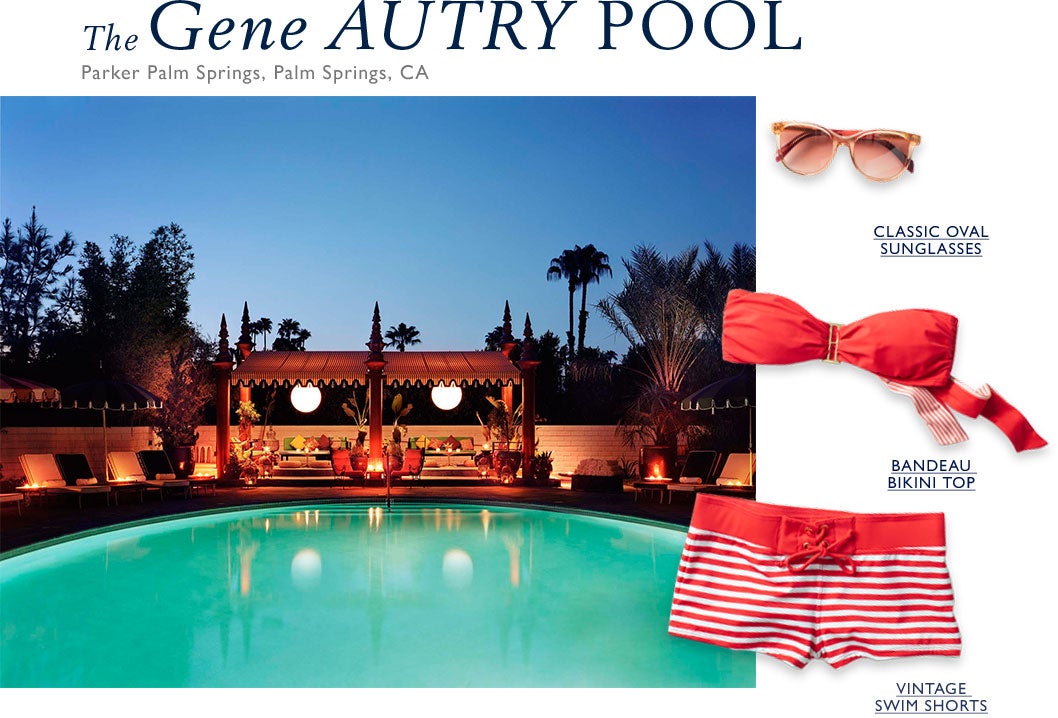 A veritable oasis situated in the middle of the desert, the Gene Autry pool—named after the singing cowboy who once called the hotel home—provides the ideal movie-set-like backdrop for Tommy's bright coral bikini with vintage "boy" shorts and classic oval sunglasses—a nod to a more glamorous time, much like the poolside scene itself. We are big fans of the chlorine-free saline pool, which means you can splash down immediately after your seaweed wrap and sugar scrub treatments. With the San Jacinto Mountains in the distance and the towering palm trees overhead against the bluest of blue skies, you'll feel like you've been cast in a mid-century Hollywood blockbuster; but be sure to set out your towel early in the day: getting a poolside spot at the Parker is like landing a table for eight for brunch on a Sunday morning in Manhattan.
---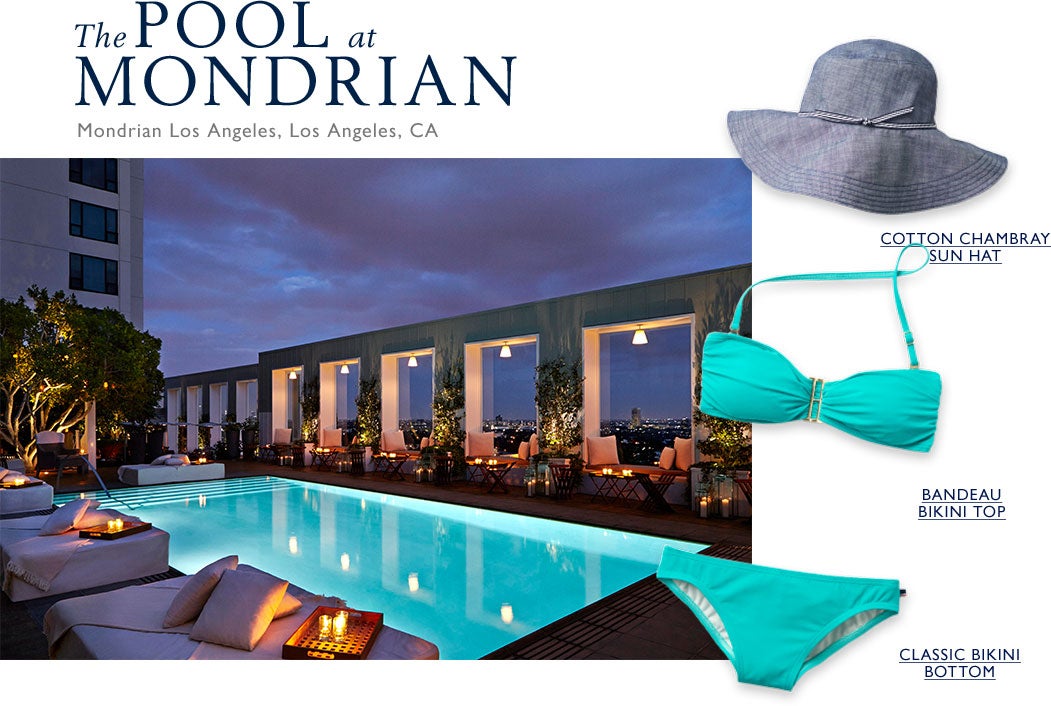 What makes the glistening pool at the Mondrian such a gem? To start, you can enjoy what many consider to be the finest views of the city of Los Angeles all from the comfort of a terrycloth-topped teak lounge chair, where Tommy's cotton chambray sun hat and brilliant turquoise bikini with gold-cinched bandeau top will keep you looking and feeling oh so cool. When you do decide to take a dip in the serene pool waters, soothing music plays beneath the surface to relax you, body and soul. And the pièce de résistance: this picturesque spot high above the city (a.k.a. Skybar) goes from a chic poolside oasis by day to one of L.A.'s hottest spots at night.
---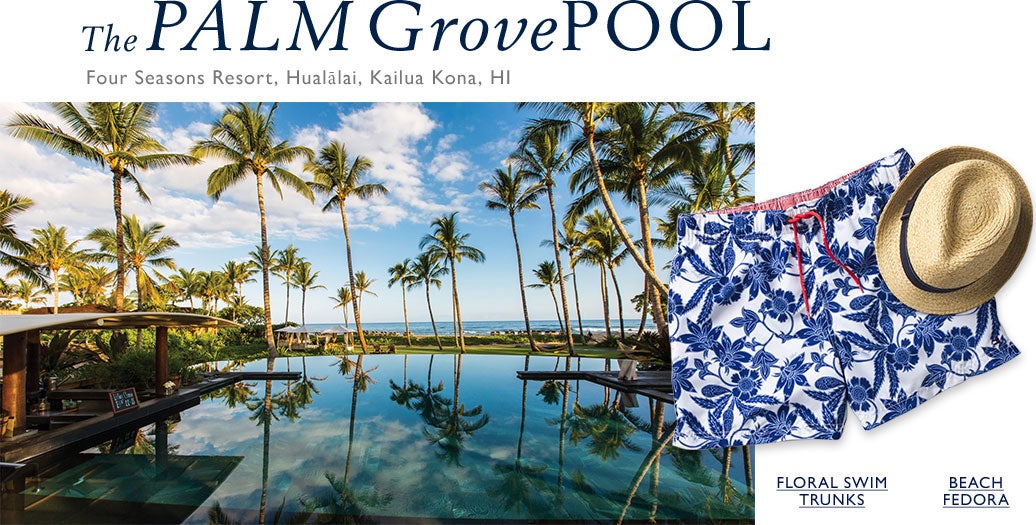 Just say "alo-ha." From sunrise to sunset, you can luxuriate in this glorious, adults-only (circle-slash on the water-wings and screaming small people), tension-edged, saline-chlorine pool. Call dibs for the day on one of the area's daybeds or hammocks, and let the fragrance of the deck's Brazilian ipê and basalt woods, and the surrounding gardenia and plumeria provide a dose of natural aromatherapy. The pool's swim-up bar (with seating … genius!) is the perfect spot to don your Tommy floral swim trunks and classic straw beach fedora—and enjoy one (or three) of the resort's signature shave-ice cocktails, which remind us of a gloriously grownup Icee.
---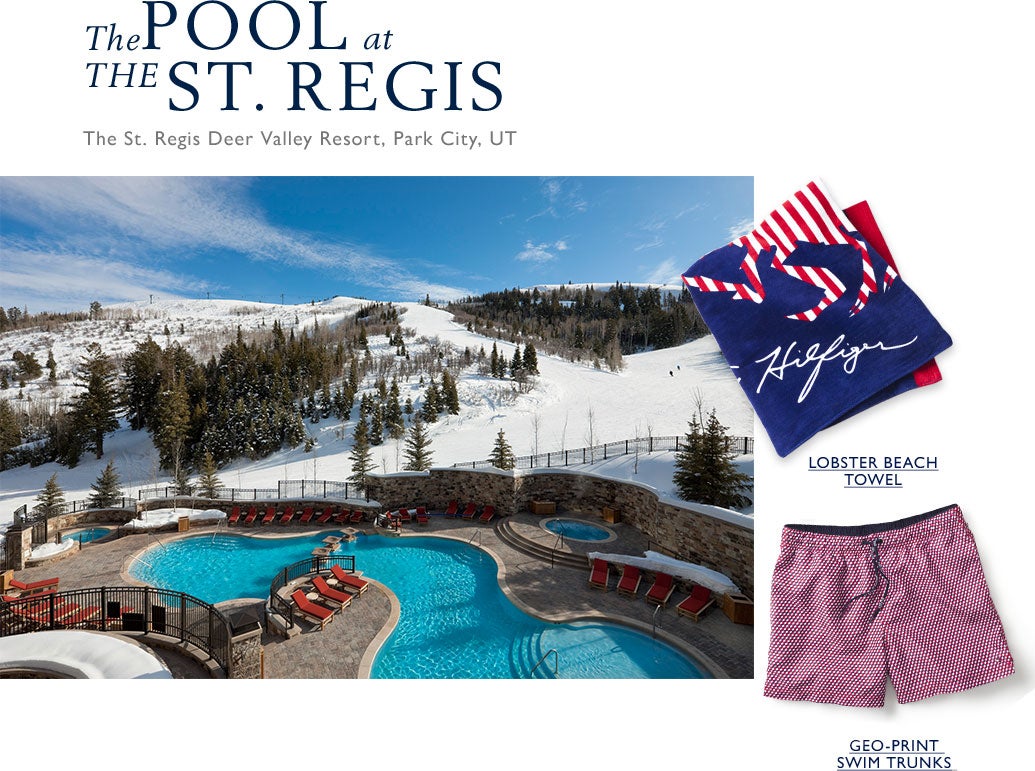 Picture this: after a full and frigid day super-sidecutting and daffying like a pro on the ski slopes, you traverse that final, powder-laden blue-diamond trail right into … a perfectly warmed body of water. Nestled into Utah's snowy Wasatch Mountains, the St. Regis Deer Valley Resort pool is 2,400 square feet of heated, infinity-edge nirvana in the midst of a frozen tundra. And while you'll need to check your skis at the door, you might consider completing your stylish après-ski transition by tucking your Tommy geo-print swim trunks and plush lobster towel under your down bib-pants.
---