The fashion-obsessed spend hours, particularly during fashion week, scouring blogs and websites to catch a glimpse of their favorite tastemakers and get inspired by the styling tricks of the world's most dapper gents. But what about the rest of us? Those who have neither the time, nor the inclination to do all that work? You're in luck.
---
We teamed up with photographer Adam Katz Sinding, founder of the highly addictive @Le21ème (pronounced Luh Van-Tay-Un-Eee-Em) Instagram account and website to explore the European men's collections. His photojournalistic approach to capturing the fashion set and its inhabitants is spot on and allowed us to curate a series of utterly cool yet wearable looks. Plus, our editors add their best advice on how to make your favorite suit or [insert shameless plug here] one from our new Tommy Hilfiger Tailored collection — your own.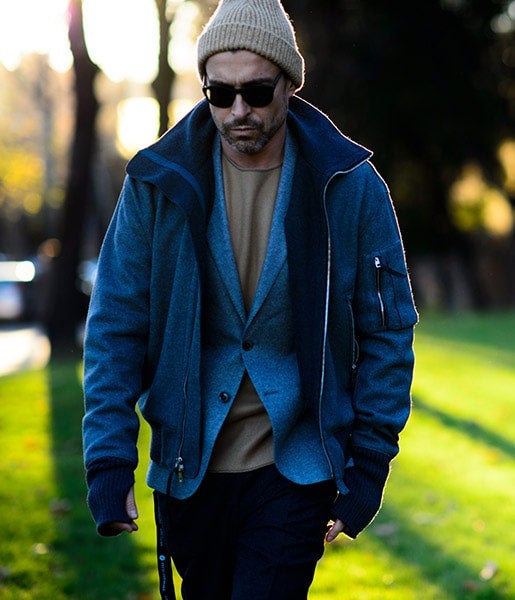 A Spanish native, WWD Men's Fashion Director ALEX BADIA knows how to put a casual yet unexpected twist on tailored clothing. Here, he wears our TH FLEX TAILORED COLLECTION SUIT jacket in Florence, Italy and mixes multiple textures in neutral tones for interest.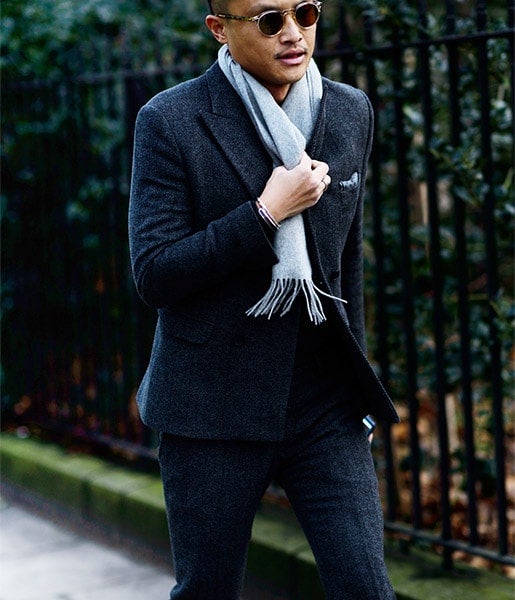 Forget the coat. Modern men add a SCARF instead.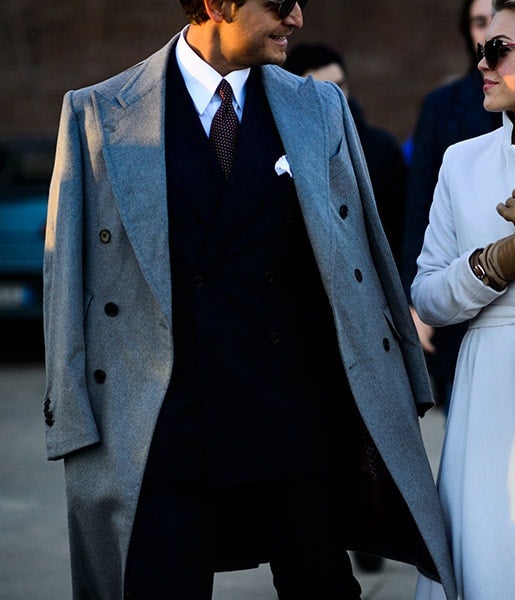 If a topcoat is a must, Europeans prefer it elegantly draped over the shoulders.
Stand out from the crowd in a colorful jacket that adds pop to any tailored combination. Our PIQUÉ BLAZER would fit the bill.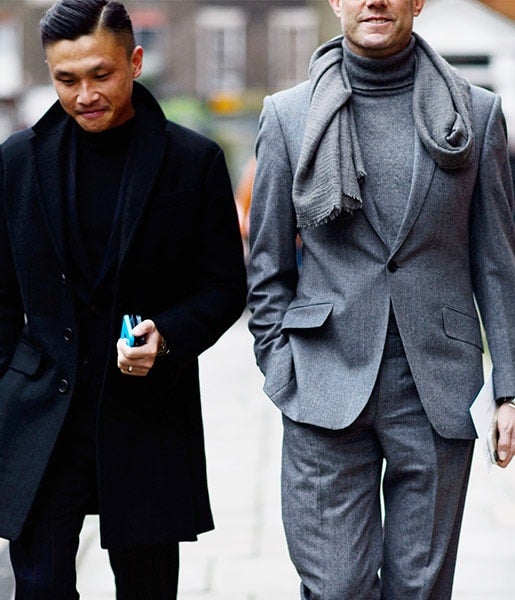 More of a neutral kind of guy? Take note of these two gentleman's tonal head-to-toe looks. We particularly love the grey suit paired with a turtleneck. Our MARLED ROLL NECK SWEATER would do the trick.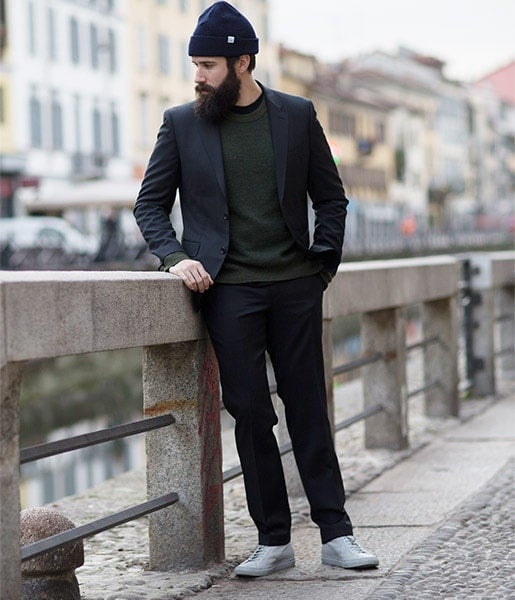 We turned the camera on photographer ADAM KATZ SINDING to capture his practical play on suiting. He paired our TAILORED COLLECTION VIRGIN WOOL SUIT with his favorite beanie, sweatshirt and white sneakers that took him seamlessly from fashion shows to dinner in one look.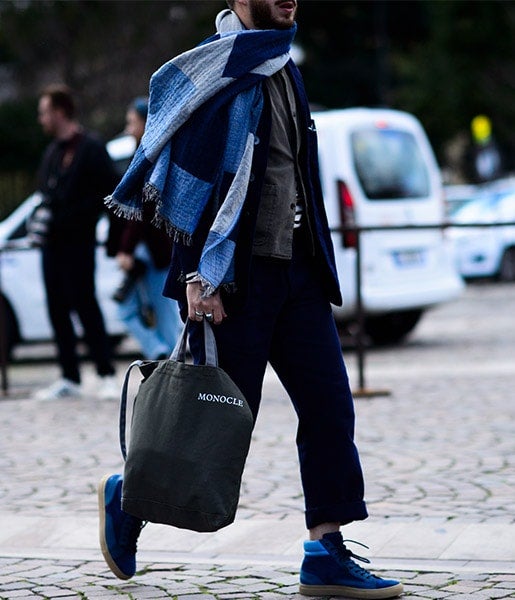 Who says only girls get to show a little leg? Slouchy trousers look full-on amazing rolled up, as proven by this showgoer. Fans of slim style pants can get in on the action too by having their tailor lop off the bottoms to show off the ankle — and a pair of LOAFERS.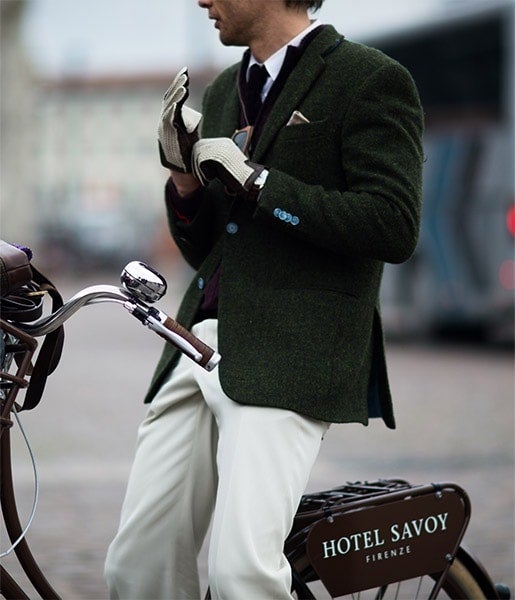 We love how this industrious attendee mixed-and-matched his thick winter blazer with the pants of a light spring suit. This contrasting trick would work equally well with our CHINOS.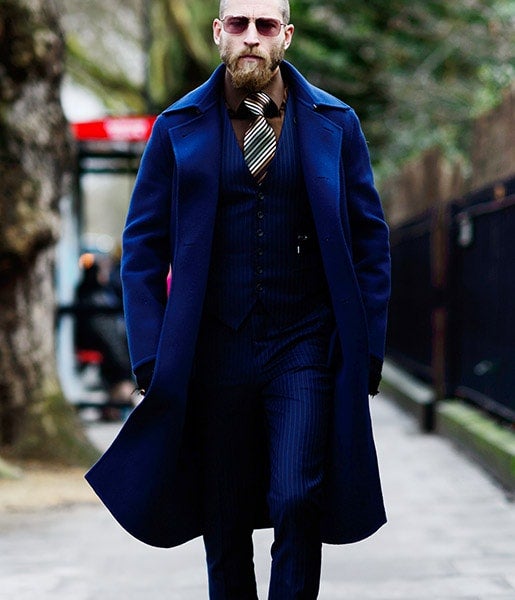 Even the most serious of suits can benefit from a taste of the unexpected, so go rogue with your shirt and TIE combinations.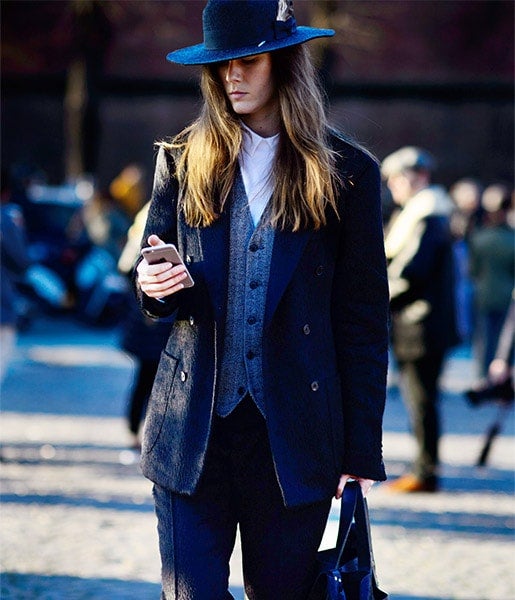 When all else fails, let her borrow from the boys and top it off with a great HAT.
---