The beloved books editor at Glamour magazine talks life lessons, ambition,
and her debut novel. BONUS: Liz's top five midsummer reads.

---
For some background, tell us about you. Where did you grow up? What sort of childhood did you have? What were your ambitions?

I grew up in South Orange, New Jersey, where I was into Annie, Free to Be You and Me, bubble paint sweatshirts, and books. Given how much time my sister and I spent playing library, you would have thought I would have wanted to become a librarian, but no — I wanted to be a veterinarian or a Broadway star.

Have you always been a reader and a writer?

Always. My parents were huge readers — in our family, a library card was of equal value to a credit card, and reading always trumped TV as the preferred form of entertainment. As I got older, I found this embarrassing, but I think that culture of Scrabble, Boggle and books really set me up for a lifetime of loving words.

Who were the authors that influenced you most?

First, there were the ones who kept me up late at night reading under the covers by the light of my clock radio, Beverly Cleary, Judy Blume, Lois Duncan, Norma Klein, Paula Danziger, Paul Zindel, and Cynthia Voigt. They showed me how to tell a story, and the lengths I would go to as a reader to reach the end of the story. Then there were the authors whose books I read in school: Eudora Welty, Virginia Woolf, John Knowles, J.D. Salinger, and Harper Lee. They were the ones who inspired me to stop daydreaming and drawing hearts on my binder.

Was there a book that changed your life?

No, but there was a teacher who changed my life. My seventh grade English teacher pulled me aside after class and said, "You know you're a writer, right? You need to get serious about that." So I did.
---

I spent years waiting for an invitation to write a book. Then I realized, nobody is going to issue this invitation. The only way to get started is to start.

---
Tell us a little about your career path?

I've worked in publishing for twenty years, either as a magazine editor or for a book publisher. Before that I was a waitress, which taught me how to pay attention to details; and before that I was a lifeguard, which showed me how much fun it is to watch people. So basically, before I graduated from college, I had all the skills I needed to be a writer ‐ it just took me a really long time to put them together!

Best advice you've ever received about writing or life?

Forget Shakespeare, Hemingway and even my beloved Annie Dillard. Nike said it best: "Just do it." I spent years waiting for an invitation to write a book. Then I realized, nobody is going to issue this invitation. The only way to get started is to start. Nobody is going to call you and say, "Welcome to the world of writers," ‐ or athletes or accountants or magicians, whatever it is you want to be. You have to declare yourself; fly your own flag. For me, this turned out to be terrifying and then incredibly liberating.

Your debut novel, "A Window Opens" introduces readers to Alice Pearse, a married mother of three who struggles to have it all. What made you want to tell this story?

I live this story! I felt like the mothers I was reading about and seeing on TV or in movies fell into one of two categories: stay-at-home mom or working mom, with very little grey area between the two. I don't fall squarely into either of these camps; neither do my friends. Most parents I know ‐ not just moms ‐ have some ambivalence about one area of their life at a given moment. Maybe they're really fired up about work one week; then the next, they'd prefer to be around to hear their kid's clarinet lesson. I wanted to write about the yin and yang of this stage of life ‐ and to explore what happens when that family‐work eco‐system is thrown off by a crisis.

What lessons have you learned from writing the book?

Don't make your fictional husband a problem drinker with occasional rage issues. It will be hard on your real husband who is calm and moderate in all areas except where Cleveland sports are concerned.

What's next for you?

I'm still the books editor at Glamour, and I'm working on a new novel that will come out in 2017. It takes place at the beach, so I'm hoping to spend a lot of time at the Jersey shore in the meantime!
---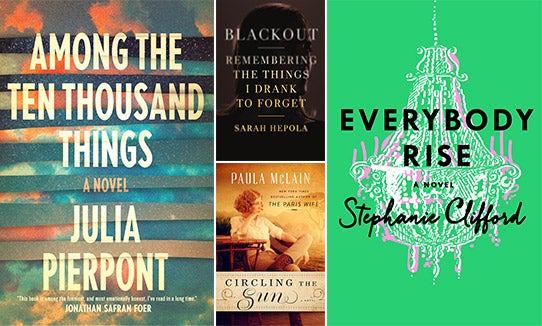 Liz's top five midsummer reads
---