Drew and Jonathan Scott, hosts of The Property brothers, suit up in Tommy's tailored collection and talk family, fashion, and fun.
---
A wise fellow once said that a man should never neglect his family for business. If you're Drew and Jonathan Scott, known to most as the Property Brothers on HGTV, you make your work a family business.
We are in Toronto to shoot the brothers for this story. Our location for the day is a labyrinth of rooms and film stages set within a commercial warehouse. They arrive on time and slightly sleepy-eyed, having shot back-to-back episodes of Property Brothers and their other HGTV show Buying and Selling the day before, and make themselves at home amongst the crew and racks of clothes.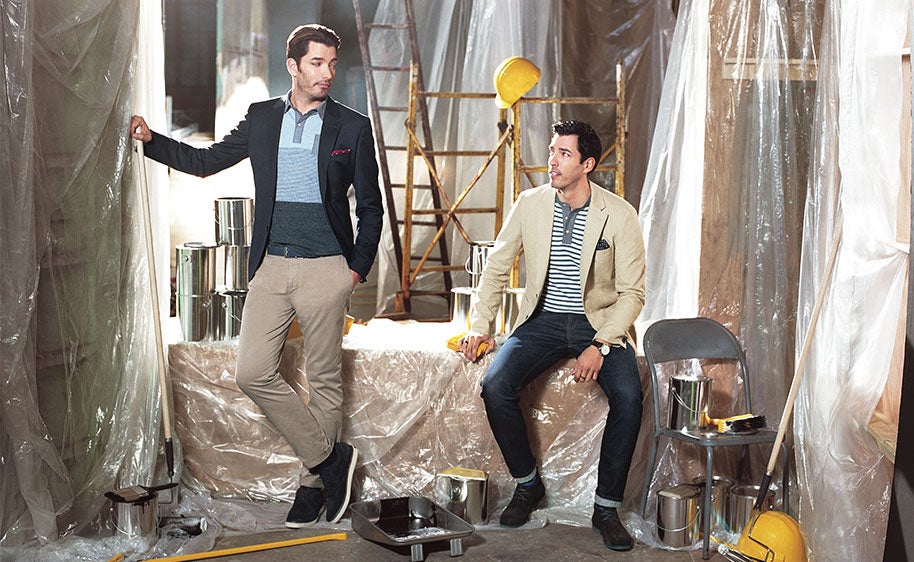 ---
Both 6'5", they wear clothes well and for the first photo are sporting suits as a nod to Drew's preferred buttoned-up style. They pose, turn and wait for lighting to be adjusted without fuss, passing the time telling stories and ribbing each other much like they do on their shows. "I like a good suit," says Drew, fussing with his cuffs. "I'm pretty sure he sleeps in a suit," counters Jonathan. "Not to mention he tailors them to fit a 10-year-old boy." Insert smirk here.
It's all in good fun, and enjoying life is a big part of the Scott DNA. Take, for example, a recent trip to Denver. Free time was short but they toured a haunted house because why not? Over the years they have tried the trapeze, played trampoline dodge ball and even taken training courses with a circus. Meanwhile, in between shots today they wander over to the dungeon-like set where the movie Saw was filmed and take turns looking scared or menacing while their business partner Linda Phan, who is also Drew's girlfriend, takes pictures for social media. "We take our jobs seriously but not ourselves," says Jonathan. It's an attitude that clearly resonates with their network's nearly 100 million U.S. viewers.
The twins and their older brother J.D. were raised on a ranch in Vancouver, Canada. Their father, Jim, was an actor and director, which would often take him away for months at time. "He would come home, and we wouldn't recognize him," recalls Jonathan. The elder Scott soon realized he was missing out on family life and returned to run the ranch full-time, while mom Joanne worked at a law firm in town. "It was a huge thing for him to give up a successful career to raise us," says Drew. "But, we all had dinner together every night."
The brothers were admittedly rambunctious and enjoyed performing. "We both did school plays and church theater; I was an apprentice clown and started doing magic around eight years old," recalls Jonathan. "That eventually grew into professional plays and commercials, and our parents approved because it was a good outlet for our creative energy."
Today, as the Scott brothers businesses expand, they agree that diversity will give their whole family options. Television and real estate will continue, while the lifestyle and fashion realms are on the agenda too. First up, a signature sock line launching later this year.
They say the entire reason for their new family compound in Las Vegas, whose renovation was the focus of the recent Property Brothers at Home series, was to create a nucleus. J.D. lives nearby and there's a guesthouse for mom and dad, with separate wings for each of them. Bottom line, says Drew, "it's nice to have a place to just spend time together."
---