SURE, IT MAY BE EASIER TO BOOK A DIRECT FLIGHT TO A WELL-KNOWN RESORT, BUT IF YOU REALLY WANT TO UNPLUG YOU NEED TO GET A LITTLE LOST. What's your reward? Deserted beaches, friendly locals and more than a few bragging rights. And BECAUSE LIFE IS STRESSFUL ENOUGH, WE'VE PUT TOGETHER THE PERFECT PACKING LIST. LET'S GO.
---
---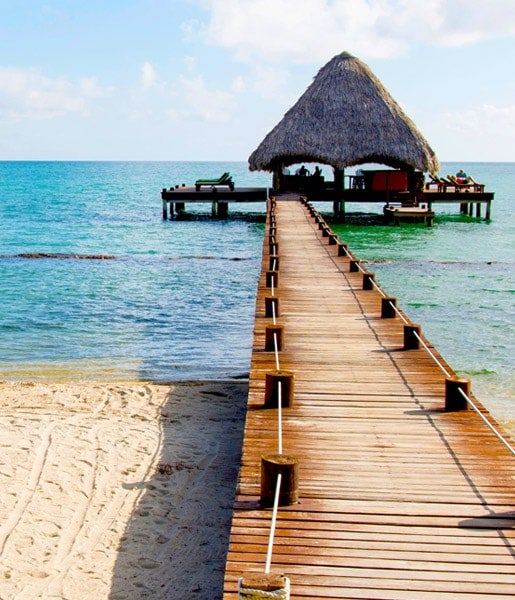 PLACENCIA,
BELIZE
---
For beach lovers and
underwater explorers
With a placid lagoon on one side, the Caribbean Sea and the world's second-largest reef on the other, the Placencia Peninsula is a magnet for divers and snorkelers. It also has 16 miles of continuous sand and a burgeoning food scene.
STAY: Fifteen years ago, Francis Ford Coppola put the fishing village on the map when he purchased TURTLE INN and his 25 thatched-roof bungalows remain the most elegant stay around. The property's magnificent glass wine cellar is home to more than 1,200 bottles—the largest collection in Central America.
PLAY: Every year between March and June indigenous fish spawn around the full moon, drawing whale sharks to the Gladden Spit barrier reef. SPLASH BELIZE will take you under to experience it up close. Foodies should ring up TASTE BELIZE to discover culinary delights including a visit to Ixcacao Chocolate Company for a lesson in chocolate making using heirloom stone tools.
SUP: Pop-up restaurant LIMILITA serves guests on the private beach of Itz'ana, a luxe new resort opening in early 2017. Helmed by former Belcampo chef Mara Jernigan and open until mid-June, the four-course feast showcases regional inspired dishes made with hyper-local ingredients. Want to be more hands-on? Captain Gas of ON THE HOOK FISHING ADVENTURES will cook what you catch.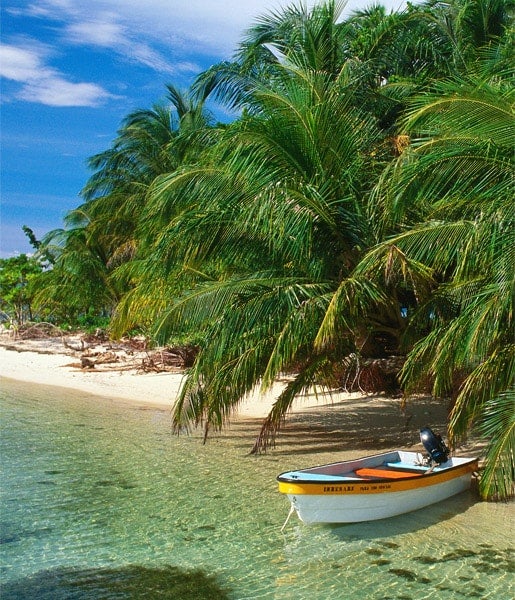 BOCAS DEL TORO,
PANAMA
---
For adventurers who want
to get off the grid
Home to sloths, toucans and some of the most epic breaks in the Caribbean, this sleepy spot screams digital detox. While Bocas Town on Isla Colón bustles with expats, surfers and backpackers, outside the village its empty sand, dense jungle and tiny sustainability-minded resorts geared toward giving you maximum access.
STAY: Detroit couple Dave and Suzanne Smith's polished eco-lodge CASA CAYUCO on Isla Bastimentos is completely solar-powered and employs a 12-person staff of local Ngäbe-Buglé villagers, the largest indigenous group in Panama. Prefer to chill above the sea? Drop your bags at one of the overwater cottages at EL FARO DEL COLIBRI on Isla Carenero.
PLAY: Fearless types can brave Nivida Cave on Isla Bastimentos, where many resorts offer tours. You'll venture up the Bahía Honda River and through cacao plantations before wading through chest-deep water under a ceiling of stalactites and dozing bats to reach the awe-inspiring natural pool. Take a step back in time spear fishing for octopus with guides from Casa Cayuco. They teach the indigenous techniques—the only legal fishing allowed in the protected Isla Bastimentos National Marine Park.
SUP: Live music plays most nights at EL ÚLTIMO REFUGIO, an art-covered open-air restaurant over the water whose menu revolves around the daily catch. Romance in mind? Guari-Guari may be housed in a tin-roof-topped wooden shack but it's set within earshot of the waves and features a five-course tasting menu, which changes daily and costs just $23, rivaling some of the best on the Mediterranean.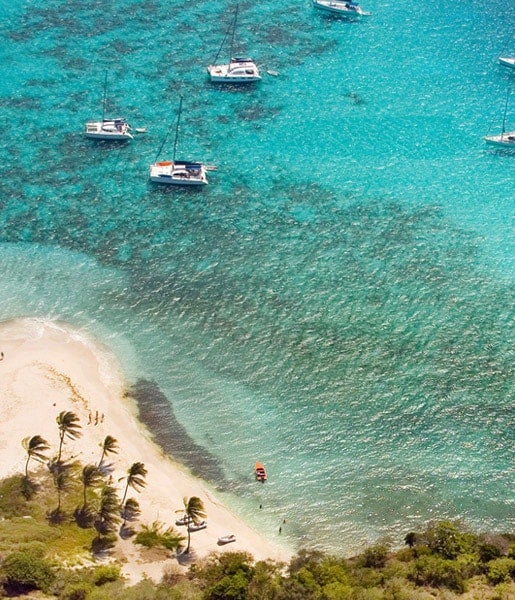 ST. VINCENT
&
THE GRENADINES
---
For sunseekers who appreciate
laid-back luxury
With no direct flights from the U.S., this chain of 32 unspoiled islands—only nine of which are inhabited—is a seclusion seeker's paradise. Pristine reefs, deserted beaches, and natural anchorages (perfect for yachts and sailboats) offer a destination where even A-listers can go days without ever putting on their shoes.
STAY: Celebrities who visit the famously paparazzi-free Mustique, where Tommy has a home, tend to hole up in one of the swank private villas. But if a room must be had it's at COTTON HOUSE, recently refurbished by Paris-based interior designer Tristan Auer. On the private island of PETIT ST. VINCENT, you'll never have to listen to anyone else's chatter because there are just 22 cottages on the isle's 115 lush acres.
PLAY: On Petit St. Vincent, ask someone at the water-sports center to drop you off on a tiny sandbar called Mopion Island with a picnic basket and a radio. On Canoun Island, tee off at CANOUN RESORT'S 18-hole course, designed by renowned architect Jim Fazio to overlook the Caribbean Sea.
SUP: Make a point to sail past Union Island and drop your anchor near HAPPY ISLAND, a laidback solar-powered bar built on an isle of conch shells in Clifton Bay. Owner Janti started piling up the discarded shells a decade ago and now serves up his potent rum punches to passersby. Eat like a royal or a Beckham at the legendary BASIL'S BAR on Mustique, known for their fresh banana pancakes and always lively music scene.
---