It's something wild as Chelsea Tyler and Jon Foster of the electro-soul band Kaneholler rock Tommy's spring collection
---
Just over the Williamsburg Bridge, Chelsea Tyler and Jon Foster are sitting in front of a stage. Their gear is in a jumble around them, their own music is pounding through the speakers, and they are...at home.
For the camera, Foster is playing the role of cool musician to Tyler's chanteuse. He's a pro, mind you, having been an actor since childhood, and as the youngest daughter of Aerosmith front-man Steven Tyler, she's no stranger to this tableau, either. Together they are Kaneholler.
Mutual friend Zoë Kravitz introduced them at a party in 2011 and music was an immediate connector. "It was probably the first week we met. I heard her singing," explains Foster. "She sounds like such a throwback singer, so timeless." Tyler admits that she has always loved to sing, but it was strictly for fun around the house with her dad or at school with her friends. She was hesitant to take on the kind of scrutiny that would inevitably come should she pursue music professionally. "But once I met Jon, it just happened."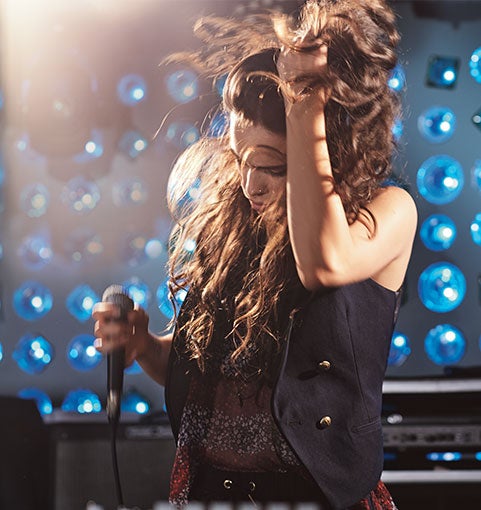 Foster got into acting when he was young, following in the footsteps of his older brother Ben of Six Feet Under and X-Men: The Last Stand fame. "There's a lot of down time in that business, so I had always made music and written songs," says the younger Foster, who has been in The Informers, Life as a House, and even done the requisite young actor guest appearance on Law & Order. "But I realized that I was more interested in the sounds, so I started producing beats and educating myself on a lot of different (music production) programs, but doing nothing with it. I literally had hundreds of songs that were just sitting there." Enter Chelsea Tyler.
But it took Foster and Tyler nearly a year before they finally decided to give it a serious go. They call their sound "electro-soul," as it's a veritable melting pot of driving electronic beats and unexpected soundscapes masterminded by Foster, set to Tyler's powerful vocals. She calls him an electronic conductor and watching them on stage or in their videos, it's easy to see what she means. Foster is a fierce drummer on the DJ board that houses all their music and sound effects, hands flying to the beats. "In my mind (the sound) doesn't have to be perfect," says Tyler. "When it's mixed with precise instrumentation, that's what gets me in my belly."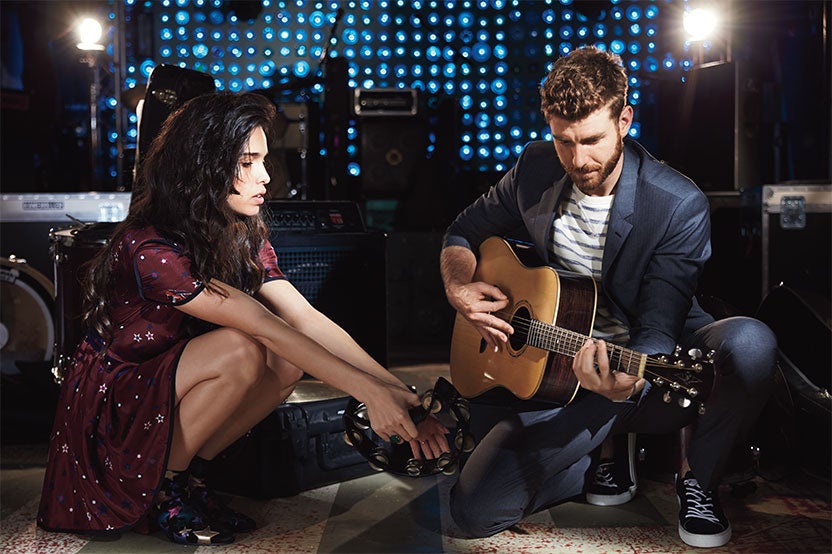 They have released three E.P.'s on iTunes so far, which they believe is more in-line with how people buy music these days. The first is bluesy, written during the early months of their relationship and it really showcases Tyler's vocals, most notably on "Someone New". The second is representative of where they are now. It skews more dance/electronic and allows Foster to be more adventurous with his beats. The third one is experimenting with where they see themselves going, fusing both styles. They are also spending some much needed time at home after a club tour this past fall and an attention-grabbing performance at the Made in America Festival in Philadelphia.
Back in Brooklyn, the day winds down. Foster reaches out and plants a sweet but silly kiss on Tyler's hand. "Too engagement-y," she laughs as the trademark Tyler mega smile, like a paternal genetic marker, takes over her face. Foster proposed last spring and went the traditional route by asking for dad's permission. They hope to start planning this year, as well as finish work on their first full-length album. And so it goes for young and in-love rock stars.
---