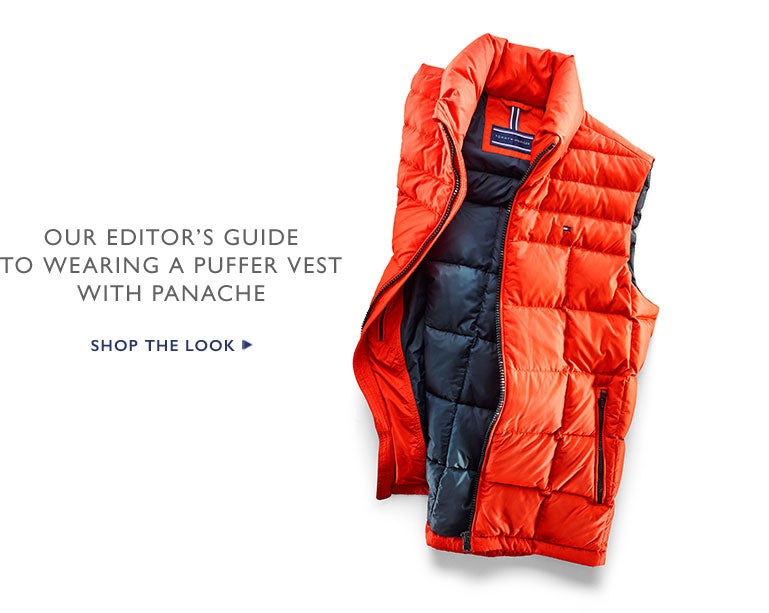 There are certain items of clothing that through the years have attained iconic status for their traditional yet enduring style. The navy blue blazer is a fine example, as is a pair of denim jeans or leather brogues. The puffer vest – um, not so much. But get ready gentleman, the sleeveless wonder is having a major moment.
For a little background, the garment we now know as the puffer began its journey to cool in the 1930's when outdoorsman, sick of their wool coats getting waterlogged, began sporting them as a modern alternative. For nearly fifty years outdoorsy types wore the quilted down jackets and vests faithfully and almost exclusively.
Then in the 1980's, street style and pop culture collided when puffers were worn in the film Back to the Future and by a zany yet loveable alien in the television show Mork & Mindy. They became the go-to layering piece for Americans, despite their less than flattering construction that rendered them so puffy that they drew comparisons to the Michelin Man.
Fast-forward thirty years and oh, how things have changed. Just this past winter The New York Times discussed the rise of the puffer vest as heritage-chic labels, outdoors-wear giants, and major European fashion houses churned out next-generation designs that featured sleeker cuts and high-tech materials to reduce bulk. "This unloved staple of the hiking trail has been revived as a trendy men's fashion item, appropriate for the office or the first date," they said.
We couldn't agree more so whether you are looking for trend, comfort or practicality – the puffer vest is back. Here's how to wear it.