On Mother's Day, you met Jordana Chambers, and heard a little bit about her life as a busy mom of seven. For Father's Day, we headed to East Tennessee to spend the day with Matthew Chambers and the rest of their brood: Tobin (14), Josiah (12), Jude (10), Eden (7), Marceau (7), Rhys (5) and Zuri (23 months). Their lives as parents is especially unique as their son, Jude, was diagnosed with a rare genetic disorder at five months old. As one of the four brothers of the blog BROTHERS & CRAFT, this challenge inspired Matthew to create SPRINGIBLE, a lifestyle platform for caregivers and supporters connected to those with special needs and disabilities, and all persons living with those adversities every day. How does a modern dad manage family life and entrepreneurship with style you ask? Read on.
---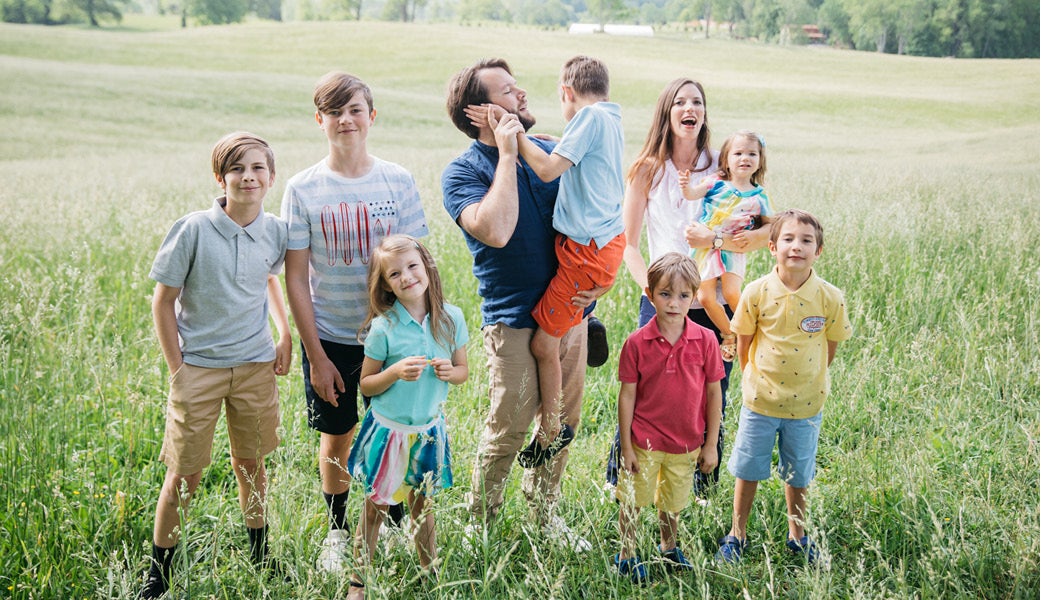 The Chambers family from left: Josiah, Tobin, Eden, Matthew, Jude, Rhys, Jordana, Zuri and Marceau, all wearing Tommy Hilfiger.
So, seven kids is a pretty big family. How in the world do you describe what life is like on a daily basis?
MC: Yep, seven is a lot and life for us is constant. Loud. Busy. Silly. Messy. Exhausting. There are so many details, especially having a child with special needs in the mix. Also, every single member of the family is opinionated and wants their voice heard, which leads to some very lively moments. But with us, what you see is what you get. It may not always feel very curated or Instagram-worthy, but it's as real as it gets.
What sort of fatherhood wisdom have you learned?
MC: I think like most parents, I've failed a lot, grown a lot, and still have a ton to learn, but there are a few things I'm always trying to focus on:
1. Don't compare how you parent to anyone else. Just be the best possible dad you can be for your family.
2. Do your best to just be present and in the moment. This is a huge challenge for me with kids ranging in age from two to 14. It means switching gears and conversations and interests all the time, but hopefully I'm maturing in this as time goes on.
3. Show love however you can, as much as you can. Not every child is the same, so find out what makes your child feel the most loved and aim for that. In our house, one child wants to have an in-depth conversation about the weather patterns, another wants to kick the soccer ball around, another wants me to play dolls, and Jude is always a little bit of a wild card––sometimes he likes being hugged and other times he just wants to be left alone. The key for me is to pay attention. That's how I recognize their love needs best.
4. Encourage them. They may not ever fit a typical mold or go after the things you expected, but cheer them on, challenge them to do their best, live their best, even if life is especially challenging.
Your blog got its start on Instagram, so you're a guy who appreciates fashion. How do you balance your wardrobe between family, work and limited time?
MC: The key word for me is diversity. As you can imagine, between work, parenting a child with special needs and wrangling our other kids, it leaves me short on time and inevitably with some sort of food stain or spot on my clothing. Having a solid mix of classics takes the stress out of frequent changes and makes it easy to add in a few trend pieces each season.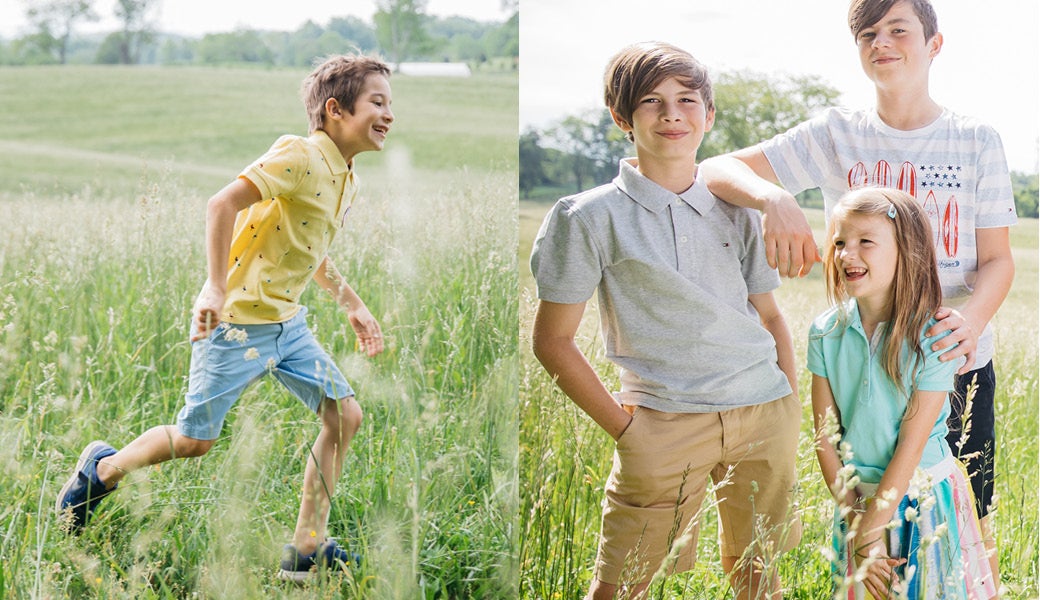 Seven kids means lots of clothing in your house. How do you keep everyone well dressed?
MC: A few rules of thumb for our "Chambers Village." First, things must be well made because hand-me-downs, anyone? Second, Jude has to be comfortable and as he grows, his clothing has to be easy to get on and off, so Tommy's adaptive clothing line has been incredible. Finally, we like to be able to shop for the whole family in one place, so it's wonderful to have a brand that makes great clothing for everyone, including kids with disabilities.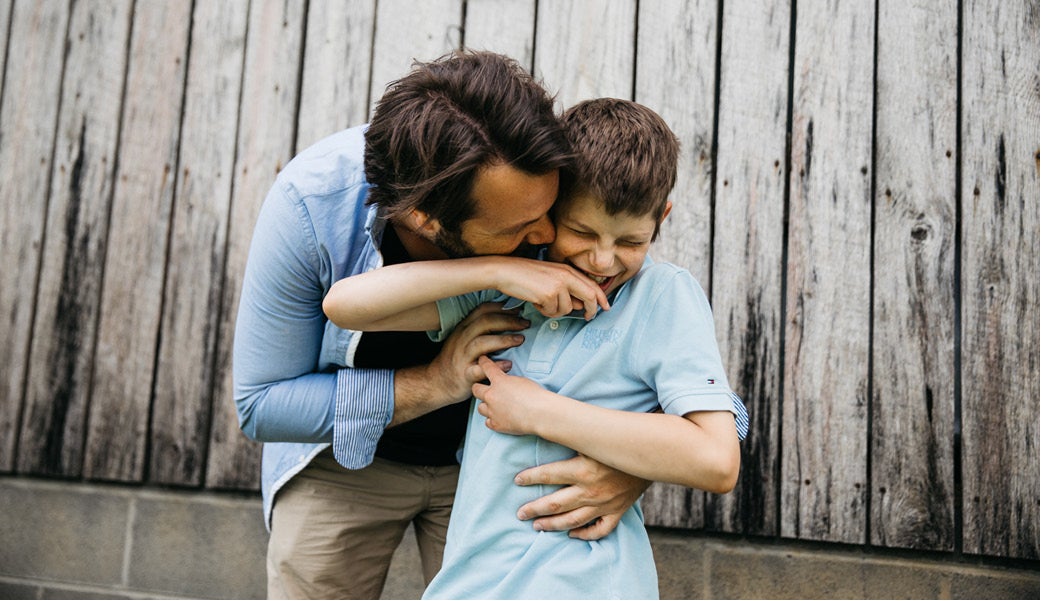 One day when you look back on the journey of being a dad, what do you hope to have accomplished?
MC: I hope as a father I was able to help my children experience as much of life and the world as possible.
I hope they're brave and not afraid to be who they really are. I hope they know Jordana and I love them no matter what, that they always felt safe and welcomed home when they needed us, and that we were and still are their biggest fans.
What three clothing essentials do all dads (and guys) need in their closet?
1. Have a go-to tailored suit or jacket. This is a must for me. Lightweight and flexible in the warmer weather, wool in the colder weather. Make sure it's a good neutral color that you can wear with anything.
2. Layers, layers, layers. Even in the summer, it makes it easy to dress up or go casual by simply switching out one piece instead of an entire outfit.
3. Joggers and sneakers. Just throw them on and go! It's the dad life, dress accordingly.
---
Photographed for the Tommy Blog by Kyle Chambers at SPRINGIBLE.