magic moments
in style
John Cusack, boombox held above his head in Say Anything, 1989. Audrey Hepburn, caught in the rain in Breakfast at Tiffany's, 1961. Humphrey Bogart on that foggy tarmac in the final minutes of Casablanca, 1942. Iconic film scenes, all three. Though produced decades apart, each is punctuated by a single wardrobe piece with staying power: the trenchcoat.
Before it became synonymous with detectives and spies, bankers and stylish women, the trench was first developed in the late 19th century. Traditionally characterized by its waterproof, khaki color fabric; double-breasted, below-the-knee cut; and buckled straps at the waist and cuffs, it's a British invention. World War I brought the silhouette to prominence as the favored garb of British military officers. It was during that time that the coat picked up a name that stuck from the trenches its wearers navigated through. Postwar, surplus stock was handed out to civilians by the British government kicking off a longstanding reign of popularity that continues to this day.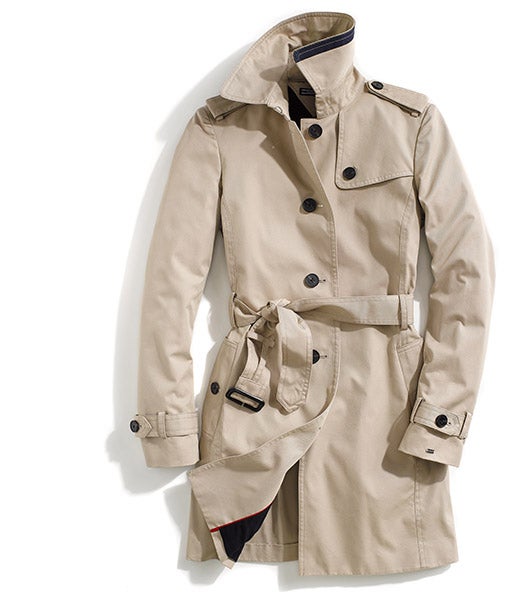 ---
"The trench is the ultimate spring coat."
—Tommy Hilfiger
---
This season Tommy turned out an assortment of great riffs on the classic from a slouchy version in navy blue to both long and short cuts in khaki. They are suitable for rainstorms, breezy spring days or playing detective.
---