Few love fashion—especially American fashion—like Fern Mallis, the bobbed and bespectacled mainstay of the industry. She seamlessly segued from the head of the CFDA (Council of Fashion Designers of America), where she served as Executive Director for a decade and launched New York Fashion Week as we know it, to a second career as a chronicler of the trade's most fascinating and important personalities. Her Fashion Icons interviews at New York's 92nd Street Y are hot tickets, and her interviews—with everyone from The New York Times' Bill Cunningham to Valentino and Tommy Hilfiger—rival those of the most seasoned journalists. 19 of these conversations will be featured in her first book, Fashion Lives (Rizzoli), available for pre-order until its April 2015 release. Here, we asked Fern the questions…
---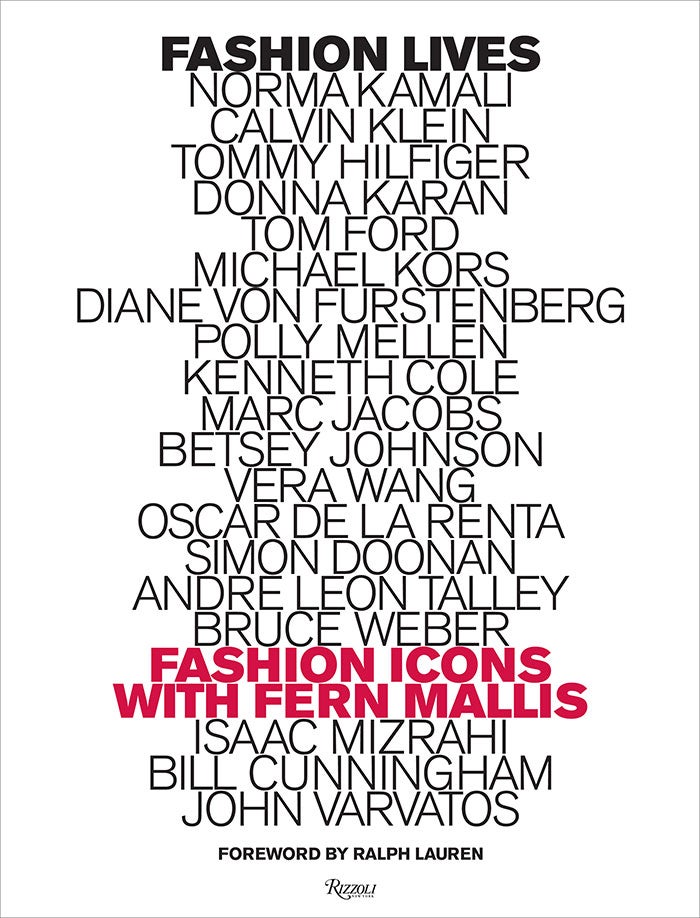 You often ask your subjects…What's your sign?
Aries.
Do you believe in astrology and the characteristics of Zodiac signs?
I do. I have been working with an extraordinary astrologist for years, and I'm fascinated by the information that he gleans from charts.
What did you want to be when you grew up?
I remember when I interviewed Tom Ford he said that he wanted to be a grown up. I always felt that, too. I had friends who just wanted to get married, but I envisioned myself in a Doris Day/Rock Hudson movie. Being a female advertising executive with an apartment overlooking the 59th Street Bridge.
It seemed like a given. My dad was a salesman in women's accessories. I loved being in the showroom, meeting the buyers and editors, ordering lunch and reading WWD.
What was your first job in the industry?
Mademoiselle magazine. I won a contest to guest edit their college issue, and they asked me to stay on. I worked under editors-in-chief Betsey Blackwell and then Edie Lock, and with writers like Andrea Quinn Robinson, Mary Cantwell and Amy Gross. It was the heyday.
What did you learn from it?
I learned to observe, to watch what was going on around me, to adjust my taste level and fit in.
What was the best piece advice you ever received from someone in the industry?
From my father: "No two people should ever have to worry about the same thing." That helped me free up my time, knowing that if something was going wrong I had lots of other people worrying about it, so I could focus my energy and attention on other issues.
Why are designers so interesting to you?
I've always respected what they've done and how hard they work. Designers put themselves out there in a way that's not easy to do while getting criticized and reviewed, and having no downtime. They can't say to Saks Fifth Avenue, "I'm skipping Fall this season. I just don't feel like it."
Why is American fashion so important?
American designers bring something special to the table. When I started, they had a realistic grip on the world and what people were wearing, where Europe seemed so outrageous.
What was the toughest part of walking away from Fashion Week in 2010?
I was blessed with a good sense of timing and learned to trust my gut. It was hard leaving my colleagues and friends, but I saw the writing on the wall and I think what's going on right now says it all.
What are some of the most dramatic moments you've witnessed during fashion week?
9/11. I had Oscar de la Renta's whole team backstage and Douglas Hannant's show was ready to go, and had to tell them to leave and go be with their families.
Any others?
Bill Blass' final show. It was the morning of Hurricane Floyd. I remember WWD wrote "Will Floyd Flatten Fern's Tents?" There were leaks everywhere. I was backstage with Bill, and he's smoking his cigarette, and he said, "Fern, we don't have to do the show, let's just go home." He was such a gentleman. I said, "No, let's give it another 15 minutes." The ladies arrived slowly but surely and it was gorgeous. There wasn't a dry eye in the place. I also remember the Tommy Hilfiger show when we closed the tents at Bryant Park for good [in Fall 2010]. Tommy came out and thanked Stan Herman (president of the CFDA) and me for 18 years. I felt like I was at my bat mitzvah.
What's your all-time favorite show?
That's just impossible to answer.
Who was the most interesting designer you have interviewed at 92Y?
All of them are interesting, and almost all of them spoke about their grandmothers being their creative inspirations.
Fair enough. How about the funniest?
Michael Kors. He is a standup comedian. Isaac Mizrahi and Simon Doonan had everyone in stitches, too.
The most complex?
Lauren Hutton. She kept asking if she could smoke a cigarette on the stage. And I had to say, no—it's New York, you can't smoke here.
So many designers have been really candid with you….
Calvin Klein and Marc Jacobs spoke about their addictions. Marc was very forthcoming about the perils of an addictive personality. It was refreshing to hear someone like that open up.
Who's up next at 92Y Fashion Lives?
Leonard Lauder (Feb. 24) and Tim Gunn (Mar 31), who has a new book coming out.
Who's on your bucket list of designers?
Ralph Lauren. He wrote the foreword to my book, and I think I'm wearing him down. We're also talking to Karl Lagerfeld and Manolo Blahnik.
If you could have five designers—past or present—over to dinner, who would you invite?
Yves Saint Laurent, Coco Chanel, André Courrèges, Bill Blass and…Gianni Versace. Why not?
If not fashion, then what?
I think I would have been great at advertising.
---