Kick off the season and get inspired with Kitchen Garden Cookbook author Jeanne Kelley
We've all heard of the farm-to-table trend, but what does that look like when the farmer lives in the hip, urban Eagle Rock neighborhood of Los Angeles? Meet Jeanne Kelley—a cookbook author, food stylist and, yes, farmer—who shares her Modernist L.A. home with her husband, a flock of chickens, a beehive, a dog, six fruit trees and a garden where she grows everything from apricots to zucchini.
Here, Jeanne shares three fresh recipes from her book, Kitchen Garden Cookbook: Celebrating the homegrown and the homemade (Weldon Owen).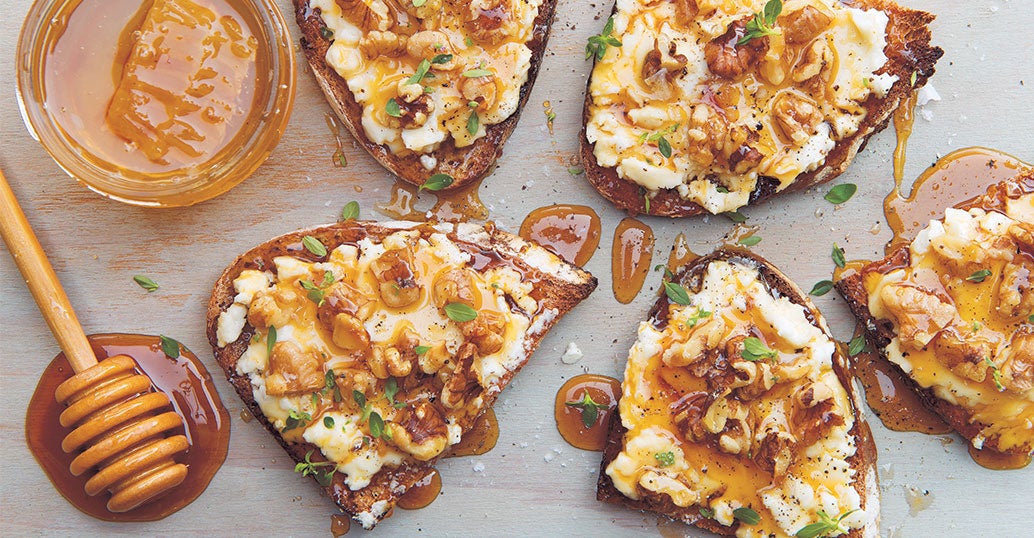 Goat Cheese Toasts

Makes 2-4 servings
These crunchy goat cheese toasts are dripping with the sweet, sticky honey and sprinkled with fresh thyme that Kelley harvests at home. Serve them as an appetizer or for lunch with salad greens.
You'll Need
4 slices whole-grain bread, lightly toasted
3 oz. fresh goat cheese, at room temperature
¼ cup walnuts, coarsely chopped
1 teaspoon roasted walnut oil
sea salt and freshly cracked black pepper
honey, for drizzling
½ teaspoon fresh thyme leaves

INSTRUCTIONS
Preheat the oven or toaster oven to 375ºF (190ºC).
Arrange the toasts on a small-rimmed baking sheet.
Spread the toast slices evenly with the goat cheese and walnuts, then drizzle 1/4 teaspoon of the walnut oil over each toast.
Bake until the walnuts are toasted and the cheese is warm, about 5 minutes.
Plate, then season with salt and pepper, a drizzle of honey and thyme leaves. Serve immediately.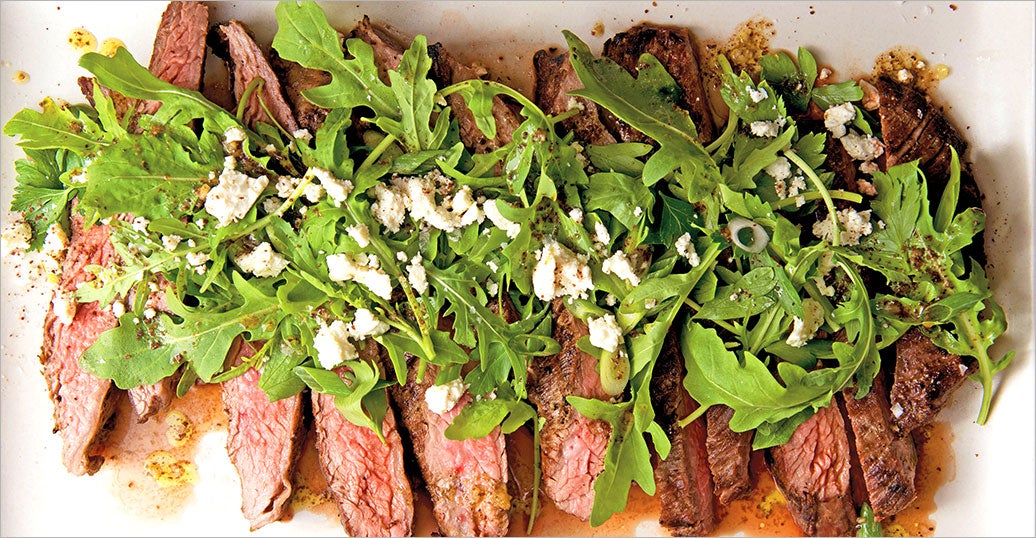 Marinated Flank Steak

serves 4
Perhaps her favorite crop is peppery arugula, which she grows year round. "I'm kind of an arugula addict," Kelley says. "I plant Runway arugula, which does well in partial shade or full sun."
You'll Need
2 tablespoons extra-virgin olive oil
2 tablespoons fresh lemon juice
2 garlic cloves, pressed
2 teaspoons ground cumin
2 teaspoons ground sumac
1 pound flank steak
kosher salt and freshly ground pepper
2 cups arugula leaves
2 green onions, thinly sliced
2 tablespoons fresh flat-leaf parsley leaves
½ cup feta cheese, crumbled

INSTRUCTIONS
In a small bowl, whisk together the olive oil, lemon juice, garlic, cumin, and sumac. Place the steak on a plate. Spoon half of the dressing over both sides of the steak, and sprinkle both sides with salt and pepper. Let stand at room temperature for 15 minutes (or cover and refrigerate overnight).
Prepare a medium fire for direct-heat cooking in a charcoal or gas grill. Arrange the steak on the grill rack directly over the fire and grill, turning once, until seared on both sides and medium-rare inside, about 8 minutes.
Transfer the steak to a cutting board and let rest for at least 5 minutes. In a bowl, combine the arugula, green onion, parsley, and feta and drizzle the remaining dressing over the top. Season with salt and pepper and toss together well. Slice the steak, arrange the slices on a platter, top with the arugula salad, and serve.
Note: Ground sumac – a deep red spice available at Middle Eastern markets – cumin, and feta give this flavorful, grilled steak exotic zip, and the tart, fresh salad makes for a lovely garnish and bright counterpoint to the beef.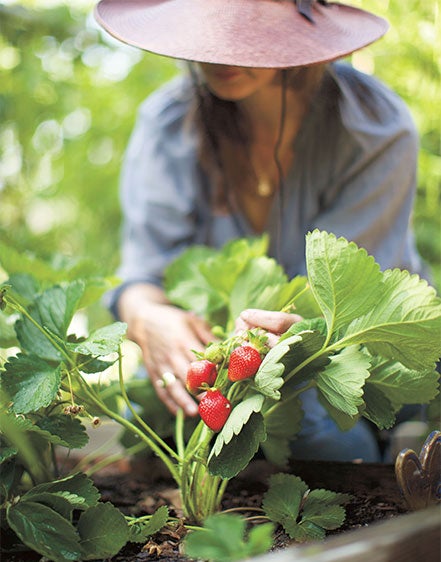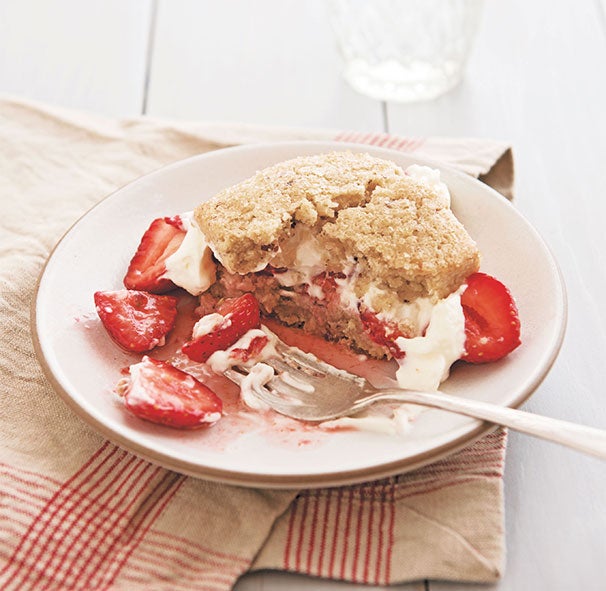 Strawberry Hazelnut Shortcake
serves 6
Strawberries are often the first fruit we see after winter, and nothing says spring like a homemade strawberry shortcake with the sweet, earthy flavor of toasted hazelnuts, topped with vanilla-kissed whipped cream. Kelley grows some in a terra cotta pot with six strawberry plants sprouting from the pockets, but they yield only about a dozen berries a season. If you want to get serious about your strawberries, she says, you'll need to give them a little more room to do their thing.
You'll Need
1 ½ cups unbleached all-purpose flour
1/3 cup golden brown sugar, firmly packed
2 teaspoons baking powder
½ teaspoon kosher salt
6 tablespoons unsalted butter, cold, cut into 6 pieces
2/3 cup hazelnuts, toasted
½ cup heavy cream, cold, plus more for brushing
turbinado sugar, for sprinkling
2 pounds strawberries
2 tablespoons honey
vanilla whipped cream (see below)
INSTRUCTIONS
Preheat the oven to 400°F (200°C).
Line a large, heavy baking sheet with a silicone baking mat or parchment paper.
In a food processor, combine the flour, brown sugar, baking powder, and salt, then pulse a few times to mix. Scatter the butter over the flour mixture and pulse until the mixture resembles coarse meal. Add the hazelnuts and pulse until the hazelnuts are finely chopped. Pour the cream evenly over the mixture and pulse until moist clumps form.
Remove the dough from the processor, gather into a ball, and place the ball on a lightly floured work surface. Pat the dough into a 4-by-6-inch rectangle. Using a sharp knife, cut the rectangle into 2-inch (5-cm) squares, making 6 biscuits total.
Transfer the biscuits to the prepared baking sheet. Brush the tops with cream and sprinkle with the turbinado sugar. Bake the biscuits until they are golden brown and cooked through, about 14 minutes. Let cool completely on the pan on a wire rack.
Stem and core strawberries, then halve small ones or quarter large ones lengthwise. Place in a large bowl. Drizzle the honey over the berries, and stir to coat evenly.
Split each biscuit and place on individual plates. Spoon the berries and cream onto the bottom halves, cap with the biscuit tops, and serve.
Note: These shortcakes are delicate, so you need to use a serrated knife and a gentle sawing motion to split them. Or you can set a whole biscuit alongside a big scoop of the berries topped with cream.
Vanilla Whipped Cream
Makes about 2 cups
You'll Need
1 cup heavy cream
1 tablespoon sugar
1 teaspoon pure vanilla extract

INSTRUCTIONS
In the bowl of a mixer fitted with the whisk, add the cream, sugar to taste, and vanilla. Beat on medium-high speed until medium peaks form. Don't overwhip the cream, or it will become stiff and grainy. Serve right away or cover with plastic wrap and serve within 2 hours; fluff the whipped cream with a whisk before serving.
---