THE "NOSE" BEHIND OUR NEW TH BOLD FRAGRANCE TELLS ALL
---
Strong and sporty, our new fragrance for men, TH Bold, was created for the modern man who's intensely passionate and has a desire to live bold. We sat down for an exclusive chat with Trudi Loren, the senior vice president of corporate fragrance development and the "nose" at our partner The Estee Lauder Companies, who led the team that created this special scent.
What is a nose you ask? The perfume industry affectionately terms a skilled perfumer a nose. In layman's terms, it's a person like Trudi that has a degree in chemistry, a vast knowledge of ingredients and smells, and is able to capture the often-complex emotions and memories the client is requesting through scent.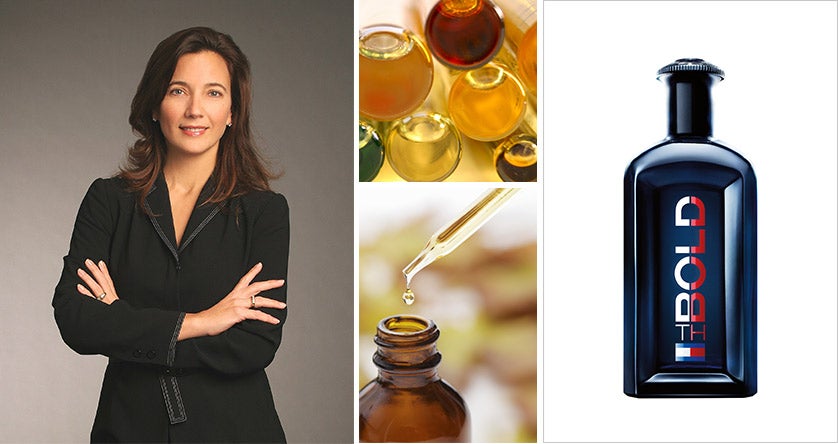 TELL US A LITTLE BIT ABOUT YOU TRUDI
Trudi Loren: I began my career as a chemist at a small fine fragrance house and they determined I had a good nose so I began perfumery training.
WHAT DOES THAT INVOLVE?
Two to three years of studying and memorizing raw materials, both natural and synthetic. The average perfumer's palette consists of about 2,000 smells. Then you apprentice to learn the act of blending and creating, which takes an additional two to three years. In my case, I went through the raw material training and segued into a developer role.
WHAT DOES THAT ENTAIL?
I'm an interpreter of what the client's idea would smell like. It starts with a brief which is essentially the blueprint, and then I think about the fantasy, the emotion behind it. Is it floral or oriental, woody or unisex? Who is the target consumer? I put all of that into an olfactory (that of relating to the sense of smell) profile and work with perfumers to write the formula.
WHAT DID TOMMY WANT FOR TH BOLD?
Bold was focused from the start. He was looking for a strong, sporty and passionate smell. Rafael Nadal had already been signed as the face of the campaign as well, so that gave us further direction to think about the tastes of the U.S., Latin American and southern European markets.
GIVE US THE 1-2-3 OF THE PROCESS
We were after a scent that was fresh and impactful so we started with crisp top notes including pomelo, grapefruit and bergamot. These are the ones that people notice immediately. Then we complimented them with heart notes of jasmine, lavender and orange blossom. Finally, we blended in materials that were substantial and lasting such as extracts of cedar, sandalwood and vetiver (a raw grass that grows in Haiti) for a combination that excited the senses but was grounded in masculinity.

HOW LONG DID THAT TAKE?
We came down to three or four options very quickly, and after some modifications to tweak the scent, Tommy and his team unanimously chose the winner. Once that was settled, we did lots of background testing to ensure the fragrance's stability (no changes in odor or color) and the requisite safety testing on humans confirming there would be no skin irritation. Next it was packaged to age, just like a fine wine, and eventually chilled, filtered, and bottled for sale. That whole process took about five months.
WHAT IS THE DIFFERENCE BETWEEN PERFUME, EAU DE PARFUM, EAU DE TOILETTE AND COLOGNE?
Perfume has the highest concentration of oil and thereby strongest smell, then eau de parfum. Eau de toilette and cologne are interchangeable and ideal for a men's scent as their light scent can be splashed on the skin after bathing or shaving.
WHAT ARE THE MOST OPTIMAL POINTS TO APPLY SCENT? IS IT DIFFERENT FOR MEN AND WOMEN?
Much of the world applies fragrance to the neck and wrists where pulse points are, with men tending to apply cologne on the face and nape. In north Asian countries it is most common to spray it in the air and walk through it, as many Asian's prefer a light scent that doesn't invade someone else's space. In the Middle East on the other hand, where prohibition is commonly enforced, alcohol fragrances are only sprayed on clothing or in the hair so as not to touch the skin. Application is a matter of choice and what is customary.
ONCE A FRAGRANCE BOTTLE IS OPEN, WHAT IS THE SHELF LIFE?
Three years.
TH Bold is available in 1.7 oz. and 3.4 oz. sizes.
---