A glimmering golden canopy courtesy of artist Teresita Fernadez
---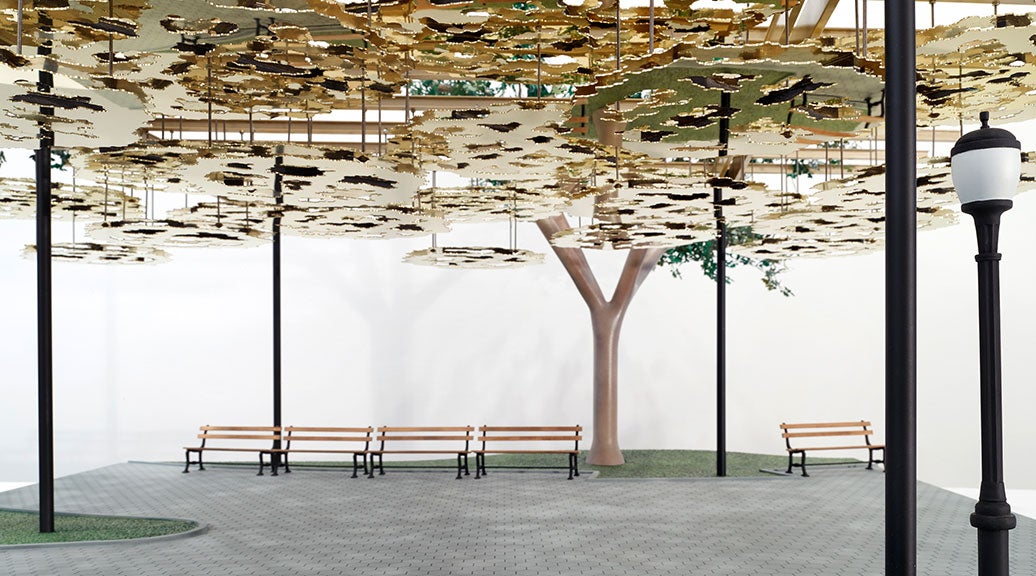 It's no wonder that Brooklyn-based artist Teresita Fernandez has named her latest work "Fata Morgana," after both Morgan Le Fay, the great sorceress of Arthurian legend, and the shimmering mirages that awe sailors on the high seas. Like no other sculptor, Fernandez brings together elements of both urbane glamour and nature's power to fascinate, creating spectacular illusions.
"Fata Morgana" is a 500-foot sectional canopy made from golden, mirror-polished discs that will hover above the walking paths of New York's Madison Square Park from April 30 through January 2016. Those glimmering discs pierced with leafy patterns will cast flickering shadows over those strolling below and emit a glow that will be visible for blocks. For Fernandez, the piece is a "ghost-like, sculptural, luminous mirage that both distorts the landscape and radiates golden light."
Known for her capacity to thrill audiences, Fernandez is what one New York Times reviewer called a "sensuous conceptualist." She deftly blends synthetic materials and natural elements, transparency, reflection, light and shade, all to mesmerizing effect. At Seattle's Olympic Sculpture Park, she created a glassed-in overpass where candy-colored cloud shapes cast Technicolor shadows over visitors and tints the cityscape beyond. At New York's Lehmann Maupin gallery, she tucked a slab of inky black mirror into a rippling white snow bank that invited viewers into her surreal snowy world. She's served as a White House Cultural Advisor, appointed by President Obama in 2011, and has received the MacArthur "Genius Grant."
As she once told an interviewer, "To be blinded and to be visually dazzled is a very similar experience." Surely, visitors to Madison Square Park will agree.
---